If you are looking for a solid menthol e-liquid, check out Naked 100's Very Cool. This is a heavenly blend of berries with a nice touch of menthol. This is just one of several menthol vape liquids from Naked 100. Very Cool has the same lovely menthol flavor in all of Naked 100 vape liquids. Aside from Very Cool, some other menthol e-liquids from Naked 100 are Frost Bite and Brain Freeze. This vape liquid will give you a great vaping experience.
Naked 100 has a collection of outstanding e-liquid. Apart from Very Cool, some vape juice flavors from this company are Go Nanas, Azul Berries, Lava Flow, Unicorn, Amazing Mango, All Melon, and many more!
Very Cool by Naked 100 is packed with berry goodness and a menthol flavor. You'll get the mixed berries and menthol flavor with every puff. This e-juice contains the flavor of blueberries, blackberries, and raspberries. The different flavors come together well to make this a great e-juice. If you're into menthol vapes, then Very Cool is just the e-liquid for you. There is no strange flavor to it whether you are vaping at a high or low temperature. The aroma is sweet and natural. You won't quickly get tired of the taste of this e-juice. This could be your next all day vape.
Naked 100 e-liquids usually come pre-steeped. But do not hesitate to steep Very Cool again if you buy a bottle and it doesn't live up to your expectations. Sometimes, all it takes is a little steeping to make the flavor come together well. This e-liquid will get a yellowish dark colored tint after you leave it to steep.
Naked 100 has quickly become one of the top brands in the vaping business. The brand is made by The Schwartz E-Liquid, which is located in California. The company makes some of the finest e-juices available on the market today.
Naked 100 e-liquids are top notch and are sold at affordable prices. Apart from Naked 100, The Schwartz is behind many other successful e-liquid brands.
Very Cool by Naked 100 has a vegetable glycerin (VG) and propylene glycol (PG) ratio of 70/30. You can choose to vape this e-liquid using a sub ohm tank or a rebuildable dripping atomizer (RDA). If you are a cloud chaser, you need not be told to reserve this one for vaping with an RDA.
Very Cool by Naked 100 is accessible with different nicotine concentration levels for varying nicotine tastes. You can get this vape juice with either 0mg 3mg or 6mg of nicotine.
Very Cool by Naked 100 will give you rich clouds of vapor. The vapor production of this e-juice makes it ideal for performing cloud tricks. Cloud chasers will love vaping this e-liquid. The clouds stay in the air for some time and have a nice aroma.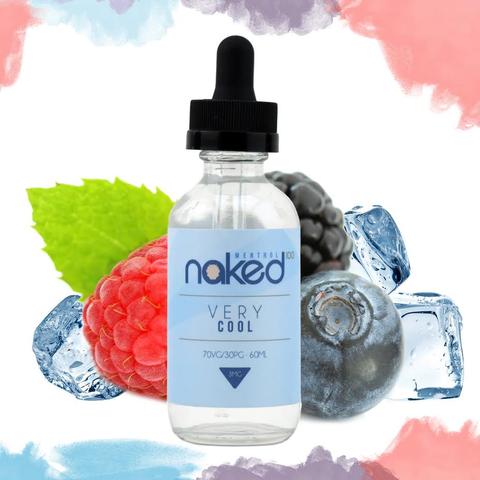 The kind of throat hits you will get from this e-juice depends on the nicotine concentration level that you select. This e-liquid won't mess up your throat. It is available with 0mg, 3mg or 6mg of nicotine. You can choose the zero nicotine version if you don't want any throat hit. You will get a gentle throat hit from vaping the version of this e-liquid with 3mg or 6mg of nicotine. You can mix this e-liquid with another vape juice that has a higher nicotine strength level if 6mg of nicotine doesn't cut it for you.
The packaging design of Very Cool by Naked 100 is simple and lovely. The e-juice comes in a clear glass bottle with a black childproof dropper cap. There is a label on the bottle with the Naked 100 logo and some other information about the item like the nicotine level, VG/PG ratio and more. The dropper helps you to avoid spilling the e-juice when filling your tank.
A 60 ml bottle of Very Cool by Naked 100 is available at Smoking Tings for only $19.99. This online vape shop was created to give you a pleasant shopping experience. Smoking Things offers great discounts. Also, the store provides excellent customer service. Their delivery system is also very fast.
Very Cool is a great menthol vape juices. The blend of berries and menthol is simply delicious. This is the ideal e-liquid to vape on a hot day. It will lift your mood to the sky.